Gatorade Gx Sports Fuel Customization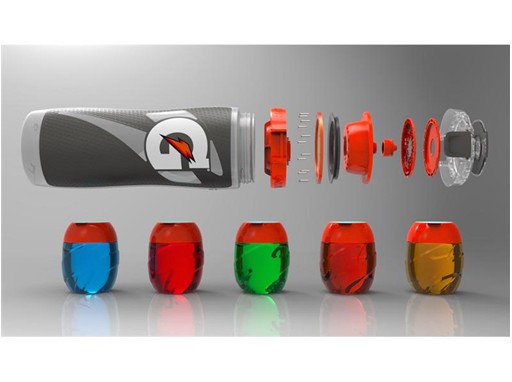 This year, Gatorade will introduce Gx, a sports fuel customization platform that will change the way athletes hydrate and fuel now and into the future. The Gx ecosystem combines science-backed products with newly designed equipment, and real-time biometric and tracking technologies to provide fueling recommendations specific to an individual athlete.
The new innovations include:
Bottle with Flipcap - Squeeze bottle (without tracking electronics) specifically designed for use with pods by including a water level marking, an integrated pod piercer and a flip cap for ease of operation
Smart Cap - In development as an upgrade to the basic flipcap, this component utilizes fluid intake tracking and provides visual feedback directly to the athlete to pace hydration
Pods - Accompanying the bottle will be a range of concentrated Gatorade formulas and flavors optimized for use with personalized hydration & fuel strategies
Digital Sweat Patch - Provides ability for real-time hydration tracking (in conjunction with smart cap) to allow athlete to hydrate & re-fuel accordingly
Future Food Forms - Gatorade is creating new food forms with new ingredients that will help address athlete preferences and fuel them during more parts of their day, including protein-enriched yogurt. These products will be available over the next several years.
The Gatorade Fuel Lab, which premiered at SXSW Interactive in Austin, Texas, provides an interactive showcase of these innovations. Included in the Fuel Lab is the Hydration Customization Room, which allows the opportunity to personalize a Gx bottle and customize the formula and flavor of the accompanying pods. The Fuel Lab also showcases the Locker Room of the Future, which provides a glimpse into the technology behind the Smart Cap Bottle and the Digital Sweat Patch, as well as demonstrating examples of customized fueling plans for elite athletes like J.J. Watt, Bryce Harper, Elena Delle Donne and D'Angelo Russell.
Contact
Gatorade PR

Gatorade

United States

pepsi-qtggatorademedia@pepsico.com

312 821 1000