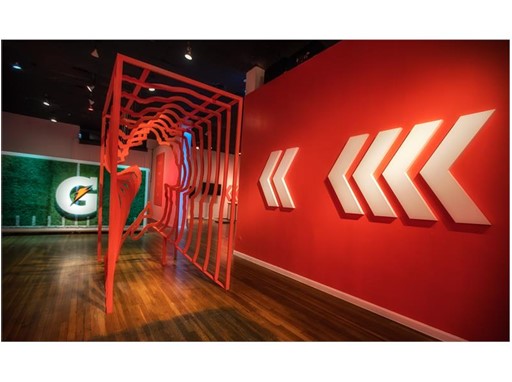 Gatorade Combine allowed SXSW attendees to experience the future of athlete evaluation and athletic innovation to life in Combine format, as imagined by Gatorade and Sports Illustrated during SXSports in Austin, Texas.
Attendees experienced three forms of testing from athletic evaluation innovators Kitman Labs, STRIVR and Sparta Science, providing an opportunity to find out how they stack up against the pros in areas such as decision making accuracy and speed, movement function, and force production.
Experience Format:
Station One: Kitman Labs

Kitman analyzes movement function and biomechanics for potential injury risk. Participants completed a short series of exercises that measure movement quality, stability, range of motion, and jump height.

Station Two: STRIVR

STRIVR uses virtual reality to measure an individual's decision-making speed and accuracy. In the virtual reality headset, participants reacted to a series of football plays. Their decisions and choices were recorded, assessed, and scored. Their score was then compared to a professional football player.

Station Three: Sparta Science

The Sparta Platform aggregates patented force plate data to identify key thresholds for resilience that produce a reliable Sparta Signature made up of variables that provide insights into individual needs resulting for increased movement efficiency, maximized athletic performance, and reduced injury risk.
From Kenny Mitchell, Head of Consumer Engagement, Gatorade:
"We made our SxSW debut last year with the Gatorade Fuel Lab, highlighting our approach to innovation, featuring the upcoming Gx customized hydration platform," said Mitchell. "This year we're continuing our focus on innovation with the Gatorade Combine, showcasing what an athlete Combine of the future might look like, featuring several sports technologies that assess different aspects of athletic performance."
Contact
Gatorade PR

Gatorade

United States

pepsi-qtggatorademedia@pepsico.com

312 821 1000