Gatorade Evolution of Football Panel at NFL Draft '15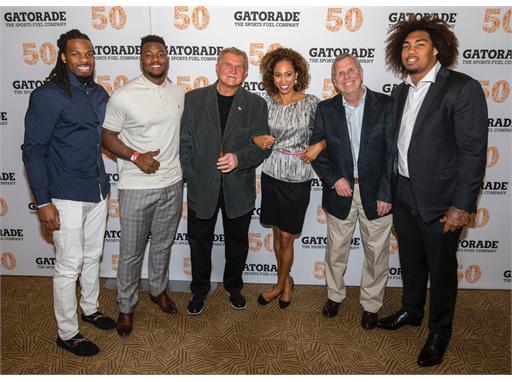 In celebration of Gatorade's 50th anniversary and the NFL Draft returning to Chicago for the first time since 1964, the brand held a special Gatorade Evolution of Football panel discussion and reception on April 29th at the Art Institute of Chicago.
The 45-minute panel discussion featured legendary coach Mike Ditka, former Chicago Bears Strength and Conditioning Coach Rusty Jones and first- round draft picks Dante Fowler, Leonard Williams and Kevin White. ESPN's Sage Steele served as the panel moderator. The panelists discussed the overall advancement of professional football over the last 50 years, player preparation for draft, the business side of football, and sports nutrition's influence on the game.  
VERBATIMS
"When I first started playing football in high school, I was eating however I wanted. I caught myself getting cramps all the time when I was running and not feeling as well after workouts; recovering really slowly. The more mature I got and the more I started playing football and understanding that nutrition is a big part after workouts, it really helped my muscles grow faster...just being able to recover a lot faster and staying hydrated and eating the right stuff..."
– Leonard Williams, First Round Draft Pick
"If you lose electrolytes out of your system, water does not do it. When Gatorade came out, it was a fantastic product. It's the greatest thing in the world. The worst thing you can do is surfer fatigue or end up with a fatigued muscle or a pulled muscle. It's not fool proof but it will certainly help you."
– Mike Ditka, Former Chicago Bears Coach
"You need to put the right things your body. So, you have to make sure you hydrate right and eat right so when that time [game time] comes, you're ready and you're healthy."
– Dante Fowler, First Round Draft Pick
"Fueling for performance is very important and having electrolytes in your body. That means you aren't going to pull a hammy or get cramps. I'm a guy that has about three to four percent body fat. If I don't drink a Gatorade or one of those salt packets that Gatorade gives out every day before practice, I cramp up easily - my forearms and my calves. Eating the right things and drinking the right things helped my game out a lot. That was another thing I did to try and separate myself. I tried to eat well and put the electrolytes in my body."
– Kevin White, First Round Draft Pick 
Contact
Gatorade PR

Gatorade

United States

pepsi-qtggatorademedia@pepsico.com

312 821 1000
MORE FROM GATORADE 50TH ANNIVERSARY
SUBSCRIBE TO RSS FEED
XML