Gatorade Provides Grant to Woodcraft Rangers, Funding Field Time Until 2024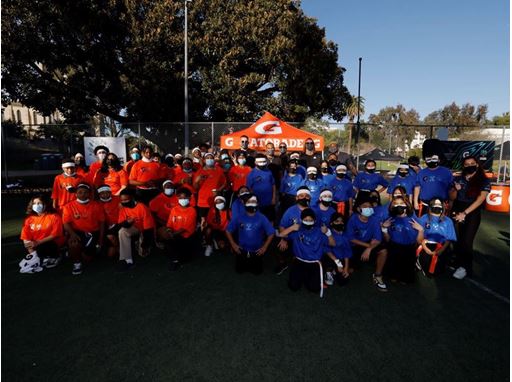 Roster athletes J.J. Watt, DK Metcalf, Trevor Lawrence, Robert Woods and Todd Gurley
surprised kids with the news during weekly flag football game
During Super Bowl week, Gatorade, the sports fuel leader, partnered with Laureus USA and the Woodcraft Rangers, a local social impact group, to provide a grant to cover their field time costs until 2024. Woodcraft Rangers has been making a difference in Los Angeles for over 100 years and is known for its summer camps and after school programs.
Wednesday afternoon at Lafayette Park, Gatorade roster athletes J.J. Watt, DK Metcalf, Trevor Lawrence, Robert Woods and Todd Gurley surprised kids with the news and joined their flag football game as guest players and coaches.
"I loved hanging out with the kids and coaching their flag football game," said J.J. Watt, Gatorade athlete and Cardinals defensive end. "It's really important to me to invest in the next generation because they're the future. And Gatorade feels the same way; the grant they've given is going to make a huge impact ensuring young kids in LA can play sports."
Gatorade has a longstanding history of serving athlete communities because it believes everyone should reap the benefits of sport, but the brand's ambition is to do more to create positive change.
"During Super Bowl week, we wanted to make a meaningful impact in Los Angeles by providing underserved communities with access to sport," said Kalen Thornton, chief marketing officer at Gatorade. "Our vision is a world where everyone has equal opportunities to play, and as a brand that fuels sport culture, we're committed to making that a reality."
Contact
Gatorade PR

Gatorade

United States

pepsi-qtggatorademedia@pepsico.com

312 821 1000