Gatorade-Jordan Brand "Like Mike" Footwear and Apparel Collaboration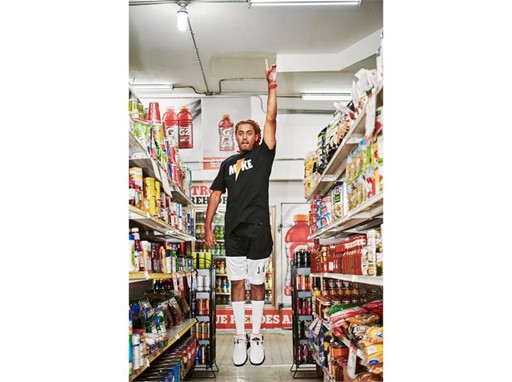 Gatorade and Jordan Brand – two iconic brands that played an integral part of Michael Jordan's illustrious career – are releasing additional shoe designs for their footwear and apparel line collaboration that first launched November 2017.
The "Like Mike" collection pays homage to the globally recognized "Be Like Mike" campaign from Gatorade and combines Gatorade branding with Jordan footwear and apparel silhouettes. It integrates legacy designs with modern innovation and combines each brand's style and soul to inspire and fuel today's athlete, just as the campaign did.
Collection Highlights:
The collection now includes four shoe designs – the Air Jordan VI "Like Mike" and "Gatorade," Air Jordan I OG High and Air Jordan XXXII – as well as a selection of shirts, hats and more, all featuring Gatorade-inspired colors.
The Air Jordan VI "Like Mike" commemorates the year Jordan first partnered with Gatorade and starred in the "Be Like Mike" campaign. It's also the year he won his first NBA Championship. The shoe features Gatorade's signature orange-green colors within the upper and integrates the iconic lightning bolt on the insole and lace lock. (Price: $190)
The Air Jordan XXXII, representing the intersection of luxury craft and modern innovation, incorporates Gatorade's signature orange color throughout the design and lightning bolt on the outsole. (Price: $160)
NEW The Air Jordan VI "Gatorade" pays homage to the iconic silhouette MJ wore during the original Gatorade campaign – getting dressed up in all green with synthetic suede and bright orange details. Inspired by the universally recognized Gatorade squeeze bottle, this colorway is highlighted by a squeeze bottle lace lock, Gatorade branding on the insole and "If I could be" embroidered on the inner tongue as a nod to the spot's catchy song lyrics. (

Price: $190)

NEW The Air Jordan I OG High is a tribute to the classic Gatorade flavors that have fueled generations of athletes. The Air Jordan I OG High takes on Lemon Lime, Grape, Blue Cherry and Orange colorways. Each "flavorway" uses a premium leather upper with "Be Like Mike" on the inner tongue and the Gatorade logo featured throughout. Additionally, the Air Jordan logo mimics the finish of a Gatorade bottle cap, while a debossed bolt is featured on the shoe's lateral upper. (

Price: $175)
Featured in the collection is a set of long- and short-sleeve shirts, hats, shorts, socks and a jacket, all sporting a Be Like Mike-inspired logo with the iconic Gatorade lightning bold replacing the "I" in Mike.
The collection is available for the holiday season on Nike.com and Footlocker in major cities across the country as well as select items on Gatorade.com.
Lastly, Jordan Brand NBA athletes will be wearing special player exclusive Gatorade colorways for Christmas day game action. Featured models include the Air Jordan XXXII mid and low, CP3 X and M13. Keep a lookout on Christmas Day!
Contact
Gatorade PR

Gatorade

United States

pepsi-qtggatorademedia@pepsico.com

312 821 1000