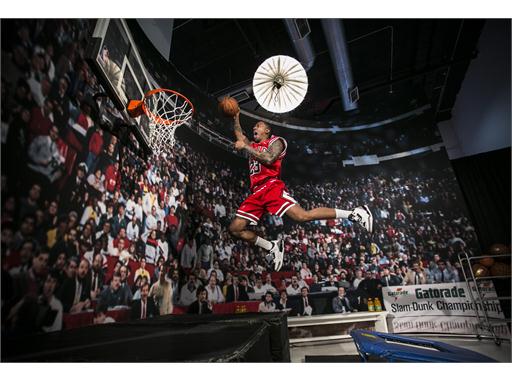 2015 is an exciting year for Gatorade as it marks the brand's 50th anniversary. In honor of this occasion, Gatorade launched an eight-week, three-phase campaign celebrating one of the most iconic campaigns in the brand's history, "Be Like Mike," which made its national TV return during NBA All-Star Weekend in the form of a digitally re-mastered version of the commercial, 23 seasons after its original debut.
Phase two of the campaign put a modern flair on the the iconic commercial with the release of three "Be LikeMike" video remixes, each bringing to life the essence of original ad through a variety of artistic and musical edits.
Move Like Mike Remix: 

MJ has inspired a generation of athletes to move faster and train harder. In this video, two athletes use that inspiration to literally bring the iconic commercial to life by utilizing machines and equipment to generate power to play the ad on the screen. Channeling their inner Jordan with each drunk, they remind us what it means to #BeLikeMike.
Dream Like Mike Remix: 

Since the late 1980s, kids across the world have worked on perfecting Jordan's moves and dreamt of playing him one-on-one. This video pays global homage to those countless moments that have taken place the last few decades. #BeLikeMike
Groove Like Mike Remix: 

Michael Jordan often left fans and opponents in disbelief by his performance on the court. This video is a fresh take on the iconic #BeLikeMike commercial, capturing his unreal game through animation.
Phase three of the campaign was brought to life using user generated video of what it means to #BeLikeMike coupled with videos from Gatorade athletes, including Mia Hamm, Abby Wambach, Usain Bolt, Bryce Harper, Jimmie Johnson, Cam Newton, April Ross, Jabari Parker, Serena Williams and Michael Jordan himself.  
The return of "Be Like Mike" wouldn't be complete without the national re-launch of Jordan's favorite Gatorade flavor, Citrus Cooler, which was made available nationally starting January 2015.
Contact
Noah Gold

Manager, Corporate Communications

United States

312-821-1381
MORE FROM GATORADE 50TH ANNIVERSARY
SUBSCRIBE TO RSS FEED
XML